Over 3 million dollars has been raised on Kickstarter in just 2 days in support of a Veronica Mars movie. Finally, the film is a "go" and I'm thrilled, I loved that series.
Ed Asner was rushed to a hospital in Gary, Indiana the other day after suffering a medical emergency during his 1-man show. He'll be a guest at the Mid-Atlantic Nostalgia Convention.
Waste more time today by going to one of TVparty's sister sites, tvparty.com!
Morrissey canceled the rest of his North American tour due to medical issues.
Ricky Gervais reprised his role of the worst boss ever, David Brent, from The Office in this 10 minute video.
Saturday, March 16, 2013
WOULD YOU LIKE TO RESPOND?
The movie scene waitresses hate...
Thursday, March 14, 2013
WOULD YOU LIKE TO RESPOND?
Dig these crazy commericials with big stars like Robert DeNiro...
Tuesday, March 12, 2013
WOULD YOU LIKE TO RESPOND?
The World's First Interactive Video Game (For Real)
Recently I was contacted about an comment I made about the "world's first interactive video game" that has now been attributed to Bill Gates (Billy Ingram - Bill Gates - close enough, right? For all I know Gates really said it).
Back in 1995 when I first started TVparty! (as part of a larger site I envisioned called 'Homeroom 1' - the url was http://www.infi.net/~homeroom or something close) one of the first articles I wrote was about a show called 'Winky Dink and You' from the mid-1950s. I called it, somewhat euphomistically, the world's first interactive video game.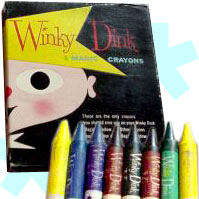 Of course, it wasn't interactive in the modern sense, there was nothing the user could do would really change the outcome of the game. On 'Winky' kids were asked to put a plastic screen over the TV glass and draw whatever Winky Dink needed to escape the villain, a bridge or a car, for instance. Time was given over in the cartoon where the action stopped for the kids to do their drawings. That way the young viewers felt they had contributed to the events... making it, de facto, interactive.
Here's one of the shows... you can read more here about Winky Dink & You.
But no one to my knowledge has ever written about the actual first non-animated interactive video game that went beyond Pacman, I just happened to have worked on the project 30 years ago. Produced for Disney by Bosustow Entertainment in late 1983 it was called 'The Disney Disc of Fantasy and Magic'. Stephen Bosustow was one of the founders of UPA Studios, they produced those Emmy winning Mister Magoo cartoons along with many other faves like Gerald McBoing Boing.
In 1963 he went out on his own and formed the company with his son Nick; in the 1980s they were providing content for 'CBS Library'. In 1970 they produced a cartoon version of 'The Legend of Sleepy Hollow' with John Carradine starring; 1978 they animated the children's story 'Tom Thumb' for television with voices provided by June Foray and Hans Conried. Bosustow also employed the vocal talents of Louis Nye, Don Messick, Stan Freberg, Claire Bloom, James Earl Jones, Michael York, and many other entertainment giants. They won the Emmy in 1983 for the CBS animated special 'Wrong Way Kid', starring Dick Van Dyke.
Read the rest of the story here.
Monday, March 11, 2013
WOULD YOU LIKE TO RESPOND?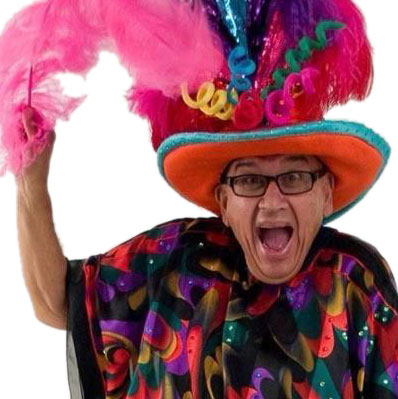 SAD PASSING
Legendary Chicago, Southern California and cruise ship cabaret / piano bar entertainer Rudy de la Mor passed away on March 5th. He was truly one of a kind, a bombastic barrel of fun. I spent many late nights in Silverlake catching his act. Whenever I was in a foul mood I would fall into Casita Del Campo in Silverlake before he closed out his set... Rudy never failed to lift my spirits.
Besides Casita Del Campo Rudy also performed in a dark bar in the San Fernando Valley in the early 1980s, was it on Ventura? Come to think of it, I think he played Sunday afternoons at one point somewhere, was it for Brunch? I went to see him one last time in 1994 before I left LA at a new piano bar in Silverlake. He never disappointed. A brilliant pro in the old (now largely gone) showbiz tradition; he was discovered by Jimmy Durante and Martha Raye.
Sunday, March 10, 2013
WOULD YOU LIKE TO RESPOND?

DC Comics is killing off Robin. Haven't they done that before?
Is Justin Timberlake the coolest guy on earth? Possibly. Here are some promos from his upcoming SNL hosting gig. Meanwhile announcer Don Pardo suffered a broken hip.
http://popwatch.ew.com/2013/03/06/justin-timberlake-snl-promos-kenan/
Skyfall is the best Bond film ever in my opinion, and made a fortune at the box office, but director Sam Mendes won't be back for the next Bond movie.
The CW is reviving Who's Line is it Anyway.
Ad for a 1970 Dodge Charger... what a beautiful car that was!
Friday, March 8, 2013
WOULD YOU LIKE TO RESPOND?
Actress Valerie Harper has terminal brain cancer. Doctors have told her she may have only three months left.
Christian Bale may star as Batman in the Justice League movie. I still say they can't pull it off even if Christopher Nolan produces the film, which he may despite saying earlier, "We're finished with all we're doing with Batman".

Jon Stewart is taking a hiatus from the Daily Show direct a feature film. John Oliver will sub the first 8 weeks.
The White House is saying that it supports letting consumers unlock their cell phones.
I loved the mid-1970s game show The New Treasure Hunt with witty host Geoff Edwards, here's a taste.
Wednesday, March 6, 2013
WOULD YOU LIKE TO RESPOND?
Actress Bonnie Franklin passed away yesterday. Jim Longworth has a tribute to his friend here.
TV Land's Hot in Cleveland continues reuniting stars from the classic TV era. I love those guys for that. This time Betty White & cast will be joined by Carol Burnett and Tim Conway in an episode currently scheduled to air in August. From the press release: Burnett will play Victoria's (Wendie Malick) mother Penny, a local TV legend and puppeteer on a children's program. Conway will make his return to the series as Nick, Elka's (Betty White) ex-boyfriend, but this time around, Nick has his heart set on Penny. Burnett and Conway are the latest in a long line of extraordinary guest stars who have appeared on the sitcom, including Regis Philbin, Mary Tyler Moore, Heather Locklear and many more.
Girls Gone Wild was forced into bankrupsy. Try to hold back the tears.

Entertainment Weekly will launch channel on Sirius/XM radio.
The third Hobbit film has been pushed back to December 14th. I don't think the box office and critical reaction to the first Hobbit was all that spectacular.
A new version of Frankentein is coming starring... Daniel Radcliffe?
A new version of Cheaters is coming soon - Celebrity Cheaters hosted by Lindsay Lohan's no good father. Sounds tacky.
Saturday, March 3, 2013
WOULD YOU LIKE TO RESPOND?

Read more CLASSIC TV Blog entries here!