---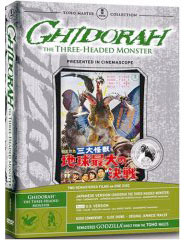 Product Description
(Sci-Fi) Ghidorah, the Three-Headed Monster -- A prophetess from Venus foretells cataclysmic disasters! Godzilla, Mothra and Rodan reappear in Japan, wreaking havoc! A giant meteor crashes into the mountains and the three-headed, fire-spitting space dragon King Ghidorah emerges! As the Venusian's prophecies come true, assassins from a tiny Asian kingdom hunt her down, while the Earth monsters must decide whether to settle their petty differences and join forces against the extraterrestrial enemy!
---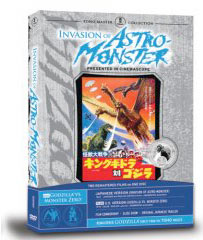 Product Description
(Sci-Fi) Invasion of Astro-Monster/Godzilla vs. Monster Zero -- Aliens from Planet X borrow our monsters for a little extermination project, but they've got something else up their sleeves: world domination!
Using mind-control technology, these vinyl-and-sunglasses wearing spacemen turn Godzilla, Rodan and King Ghidorah loose in Japan, demanding Earth's surrender!
It's up to American astronaut F. Glenn, his galaxy-trotting buddy Fuji, and nerdy inventor Tetsuo to break the aliens' hold on the monsters and save our planet from certain doom.